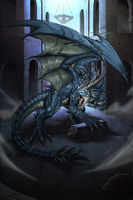 Joined:
Wed Apr 15, 2015 11:09 pm
Posts:
658
Location:
Earth
Has thanked:
2
times
Been thanked:
349
times
Patron Deities?:
(Claimed by many names unknown, probably hellcats)
Your favourite Demon?:
HBRFD-S, Ancestor Z (dragon), Cthulhu, My entire tribe from back home (dragons), Lord Sorath,others
Number of Demon Familiars:
5
Star Wars, and the force
I had a good dream last night.


I'm in the Star Wars world, set in the time before the events of the SW movie saga.
I appear as a younger male human with white translucent skin. I look similar to young Obi-wan in ep. 1 of the movies, but with a different face, and darker hair.

I am in one of the piloting races on Tatooine. In the competition are other pilots, as well as a younger female Jedi apprentice. We are in the part of the race that takes us into deep and windy canyons. Since I know this area well, I utilize a secret portal hidden from most people with my force powers. It takes me into a different layer of reality; a place of dense white fog. I navigate it to the end of the race, and open a portal back out before I go too far in that dimension. I end up winning the race, but my craft takes a beating from the transition, and my left engine blows out.

After receiving my prize, I start to head back to my ship, only to get confronted by a Sith warrior looking to steal an artifact I am protecting. The artifact in question is an egg-shaped device that has two bands on the end you can program with either light or dark force energy. It'll turn from either an off white or black-purple for the element of the force you desire. The artifact has the power to increase the side of the force you want to utilize by an insane magnitude. As the Sith approaches me, I tell them off, switching one band to attune to the dark side from them both previously being light attuned. I then channel the dark energy and grow tough claws on my hands in preparation for battle.

The young Jedi apprentice happened upon the scene, and is about to jump in when it ends. She then decides she needs to take the artifact and keep it for the Jedi side, so as I continue on to my ship, she tags along. I reach my ship. It is a small, one-person craft with hyper drive capabilities. It is much more advanced than most technologies in that era. I open it and sit down cross-legged into a flat area with a control panned and monitor and only a white floor besides it. It is too small and not designed for chairs,

The Jedi girl (appearing as old as I looked) sits down with me, and I close the ship. It's a little snug in there with two smaller young adults that she sits very close and is tougching my left arm. I turn on the control panned and we lift out of orbit. I then look at her and say "why don't we go get something to eat?", as I feel an intense hunger rise up inside of me. I move my hand to brush her hair, which is falling over my shoulder as she leans her head closer to me. I briefly consider seizing her in a strong grip and feeding on her, but decide that it would be best to get her emotionally closer to me and open up to be more trusting first. I can exploit her kindness if I am in need of an ally in the future.

Taking a moment to calm myself, I turn towards the control panel and pick out a tropical planet with plenty of traffic to go find food for both of us. The ship starts to vibrate as it gets going and moves into hyperspace. The ship, because of its advanced mechanics, makes the transition very smooth and hyperspace feels like the ship is just floating rather than moving,

The Jedi girl (I never got her name) and I talk about various things as we travel, I tell her about the force. That the dark side and light side are just two aspects of the whole. The light is no more good than the dark and the dark is no more evil than the light, but by choosing to only stay on one side, and reject the other, you set yourself out of balance, and take yourself out of your true power, as the whole of the force is duality. We are both of the light and dark, and being balanced and in control of both your light and dark natures is essential to being able to use your full power to its highest potential. And that's where I stood. I have lived long enough to truly understand that neither the Jedi nor the Sith are truly the best, but by having aspects of both, without remaining neutral, you become the most powerful. And that is why so am as I am.


We go on to discuss more, although I neglect to tell her that even though I look young, I am really thousands of years old. Eventually we arrive at the location, and begin to descend into the planet.

This is where the dream ends. It was a very powerful and enlightening dream, and had much significance to me. In a world like the star wars universe, there is no real understanding of balance in duality, and is more along the themes of good vs evil. It was a good message of needing to embrace and accept your darker nature, and be able to combine the lighter aspects of yourself to complement each other in a way that brings you into your full power.
_________________
~Never get between a hungry dragon and a meal, lest you become it.~