D
a
r
k
e
s
t
W
i
n
t
e
r
N
i
g
h
t
Y
u
l
e
M
a
s
q
u
e
r
a
d
e
B
a
l
l
Group Exploration : Krampus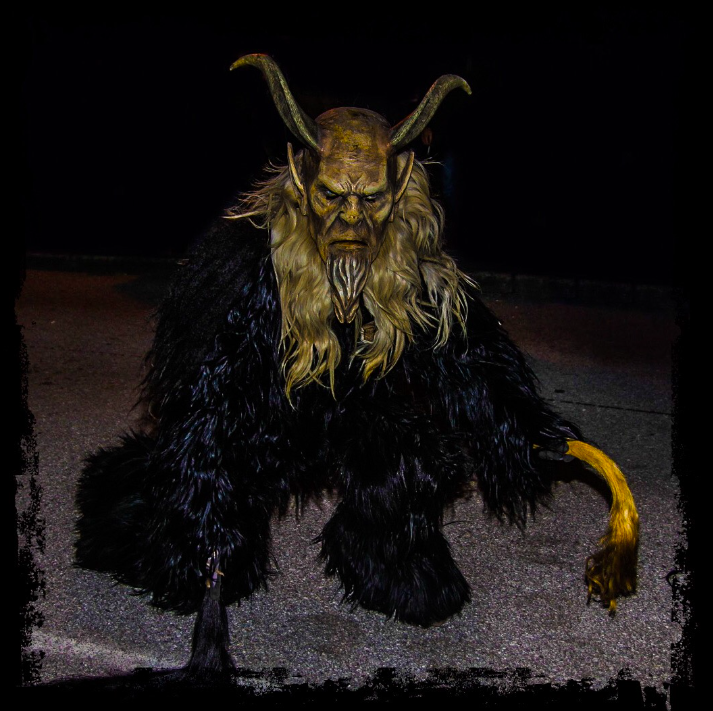 Forget Elf on a Shelf, Krampus is the King!






The herald of pain and the one who punishes
the naughty little girls and boys. Krampus
has been a part of European Holidays since
before Christian times. His roots span back
into the Norse traditions of old and he is a
very central and important figure in European
festivities and celebrations.


Krampus is a very unique figure. He is the
Christmas Devil. December 5th is Krampus's
day where he wanders the streets and
kidnaps those who are naughty.. He spends
the night visiting each house leaving bundles
of sticks for naughty children or whipping
them if they have been very naughty. And
for those who have been especially naughty
they are thrown in a sac and whisked off to
hell.


He is one who punishes children who have
misbehaved and unlike St Nicholas, who
rewards good children with presents, Krampus
drops the naughty ones into darkness.


He is described as a Half Demon/half Goat
figure and he has horns and a really long
tongue. Some say he has cloven hooves but
oftentimes he is depicted as having one
cloven foot and one human foot.


He is a very important part of Austrian and
German holiday celebrations and many
celebrate Krampus day with greeting cards
and a procession of Krampuses stalking the
town. It can be quite lively and fun festivities!


Krampuses wander through the street whipping onlookers with bundles of sticks.


Originally it is said that Krampus is the son of
Hel from Norse Mythology, but over time one
can see him being paired with Santa Claus as
the punisher of naughty children.


So… since this is a place of darkness and working with demons today, we will Connect with Krampus, and learn about him.


What does he look like to you?

What do you experience in your work with him?

What messages does he reveal to you?


There is no right or wrong answer in this. This
is your personal exploration of Krampus, the
Christmas devil. Don't worry about what you
get just allow it to come and if you want, post
below and you will be entered to win a $25
gift certificate to the S&S store!